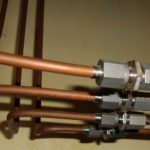 The right pipes can make or break your plumbing system. Working with a knowledgeable and experienced Houston commercial plumber is the most effective way to determine the right solutions for your budget and your business needs. If you need copper piping for your commercial buildings, understanding the available options can help you to make the most practical choice for all your plumbing needs. Here are some of the most commonly available and popular choices in the copper pipe marketplace.
Type K
Type K copper piping is available in both soft and rigid configurations and is used in applications that require high tolerance to pressure. These pipes are ideally suited for large-scale water supplies, compressed air pipes, fire protection systems, heating and cooling system use and industrial conduits. Your Houston commercial plumbing company may recommend Type K copper for underground pipes and for water mains thanks to its high degree of durability and its versatility in practical applications.
Type L
The applications for Type L copper pipes are similar to those for Type K. These copper piping solutions are most commonly found in interior plumbing installations and are often used in Houston commercial plumbing repair applications. It is suitable for use in conveying water, fuel oil, natural gas and compressed air safely and effectively. This allows Type L copper pipes to be used in the widest range of commercial and residential applications. Type L pipes are available in soft and hard versions to suit a variety of needs.
Type M
Because the walls of Type M copper pipes are much thinner than those of Type K or Type L, they cannot be used in many heavy-duty industrial and commercial applications. Type M piping is much cheaper to purchase and install, however, making it a preferred choice among some budget-minded businesses and homeowners. It is primarily used for water supply and vacuum applications.
DWV Copper Pipe
The thin walls and lower pressure resistance provided by DWV piping limits its use to venting and drainage applications. DWV piping is generally available only in soft formulations and cannot be used to carry water or gases under pressure, which makes it a less desirable choice for most applications than the other available types of copper pipe.
At AAA Plumbers, we have more than three decades of experience in the commercial plumbing industry. Our team of skilled plumbing technicians can provide you with expert recommendations on the right copper pipe and plumbing fixtures for your commercial buildings. We work with you at every step of the way to ensure that your commercial plumbing project is completed on time and to your satisfaction. Call us today at 713-462-4753 to request emergency service or to set up an appointment for a consultation with us. The entire team at AAA Plumbers looks forward to the chance to serve you and your business.