The Best in Houston Commercial Plumbing Repair Services from the Experts at AAA Plumbers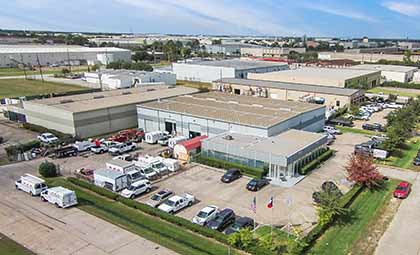 Finding the right Houston commercial plumbing repair and maintenance services is critical to your company's ongoing success in the competitive marketplace. AAA Plumbers is a top-rated Houston commercial plumber with a proven reputation for excellence in the industry. We offer comprehensive repair and replacement services for clients throughout Fort Bend County and the greater metropolitan area. Here are some of the most important plumbing services we can provide for your commercial properties.
Water Heating and Supply
As a leading Houston commercial plumbing company, AAA Plumbers is licensed and insured and can provide your buildings with cutting-edge tankless water heaters as well as traditional gas and electric water heaters. Our expert technicians can design and install water supply lines and keep your current pipes in good repair for your tenants and your business operations.
Gas Line Repairs
Gas line problems can pose a serious risk to your properties and your tenants. By calling AAA Plumbers at the first sign of trouble, you can avoid serious issues while maintaining the value of your property. Our Houston commercial plumbing repair team can quickly repair any issues with your gas lines to keep your properties and your tenants safe. We also perform gas tests, including pneumatic gas line testing, to identify emerging problems before they become serious issues.
Drain Cleaning
Our lineup of Houston multi-family commercial plumbing services also includes backflow certification and installation, drain line inspections and comprehensive drain cleaning services. We clean grease traps and offer sewer jet cleaning services designed to help keep these critical plumbing necessities in optimum working order. This can result in fewer drain issues and improved satisfaction for your valued tenants, allowing you to enjoy an improved reputation for quality in the competitive marketplace.
Fast and Reliable Emergency Repairs
We offer emergency services available 24 hours a day, 365 days a year. When you call AAA Plumbers, you will reach a live person with the ability to schedule your emergency repairs quickly. We also ensure that a supervisor is always on call to provide you with the best possible solutions for all your commercial plumbing needs. This commitment to quality customer service has made us a trusted resource for commercial property managers across the metropolitan area.
As the premier Houston multi-family commercial plumbing company, AAA Plumbers offers a full range of services for apartment buildings and other commercial properties. We take pride in delivering the best services for our clients and go the extra mile to ensure that you are completely satisfied with the work we do on your behalf. Call us at 713-462-4753 to speak with one of our friendly and helpful customer service representatives and to schedule an appointment with our expert plumbing technicians. We look forward to providing the best plumbing services for
your business.