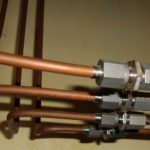 Deciding on the right materials for your commercial plumbing project can be a challenging task. Longevity, durability and ease of installation are all factors that can influence your decision. Your Houston commercial plumber can provide you with detailed information about the various pros and cons of the most popular choices. Here are some basic differences between the three most commonly used materials for commercial plumbing installations.
PEX
Cross-linked polyethylene, typically referred to as PEX, is a flexible piping material that is easy to install. Because it can be shaped to go around indoor obstacles, PEX pipes require fewer fittings and fewer opportunities for leaks. These pipes are suitable for both hot and cold water supply use and can potentially reduce the need for Houston commercial plumbing repair services thanks to their ability to expand and adjust to added loads within a reasonable tolerance level. PEX piping should not be used in areas where it will be exposed to outdoor elements.
CPVC
Chlorinated polyvinyl chloride (CPVC) pipes are commonly available at most hardware stores and are popular as a do-it-yourself solution for homeowners in our area because of their ease of use. These piping solutions may not be suited for some commercial applications, however, due to the reduced longevity and potential for splits. Your Houston commercial plumbing company can provide you with professional guidance that can help you determine if CPVC is a viable choice for your commercial plumbing project.
Copper
Once considered the gold standard for plumbing installations, copper has lost some of its luster because of the difficulty in installing this durable material. Copper is much less flexible than PEX or even CPVC piping, making additional fittings necessary to ensure that these pipes can travel around obstacles. Copper is also susceptible to corrosion depending on the pH level of the water in your area. Because of its resistance to UV rays, copper is suited for use in outdoor installations that receive direct exposure to sunlight.
The right solution for your plumbing project will depend on your available budget and the configuration of your building. At AAA Plumbers, we work with you to determine the most important priorities for your company and to deliver the right solutions for your needs. We can install PEX, CPVC or copper pipe to ensure the greatest longevity and the most practical performance for your commercial buildings. Give us a call today at 713-462-4753 for emergency plumbing repair or to discuss your upcoming replacement or installation project. We look forward to the opportunity to help you achieve your commercial plumbing goals.
Save