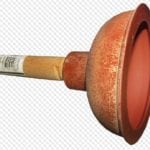 Making sure that you have the right tools for the job can make any renovation or repair easier. Choosing the right plunger can be a tricky proposition, however. If in doubt, you can often consult with your local Houston commercial plumbing repair specialist. Here are the most commonly used types of plungers in the plumbing industry.
Cup Plungers
These simple tools consist of a rubber cup with a longer wooden stick affixed to it. Cup plungers are intended primarily for use in sinks and can provide solid suction and pressure for clogs in these straightforward plumbing fixtures. For curved fixtures like toilets, however, cup plunger devices may not be as effective or as practical.
Flanged Plungers
Designed specifically for use in most toilets, flanged plungers consist of a long wooden handle connected to a cup with an interior flange. When this plunger is used for a Houston commercial plumbing repair it covers the opening to the toilet and can creates significant force and a watertight seal that can quickly dislodge clogs. This can produce faster and more effective results than comparable cup plungers used for the same tasks.
Accordion Plungers
Accordion-style plungers have fallen in popularity among homeowners and building managers due to the large amount of water needed to ensure maximum efficiency. In some cases, these plungers may offer added help in dislodging difficult clogs. For most issues, however, the accordion plunger fails to deliver the right results without considerable effort.
Taze Plungers
Although these plungers are not generally available for home use, taze plungers are one of the most effective tools available to your Houston commercial plumber. A taze plunger uses a small metal disc sized exactly to fit the pipes in need of unclogging. This disc is attached to a thin metal rod that a professional plumber or maintenance expert can feed through the pipe to push out any blockages. Because this process requires a delicate touch, it is not recommended for homeowners or other less experienced individuals. A small mistake could add up to a significant repair bill when using taze plungers at home.
At AAA Plumbers, we offer comprehensive plumbing repair and maintenance services designed to keep your commercial properties in tip-top condition. As a leading Houston commercial plumbing company, we have solid experience in providing the right solutions for your business and your ongoing needs. We offer emergency services available to you 24 hours a day, seven days a week to ensure the fastest response times. Give us a call today at 713-462-4753 to schedule an appointment or to request repairs from us. We look forward to the opportunity to provide all of your commercial plumbing needs.